Exporter & Dealer of Two & Three Wheeler Automobile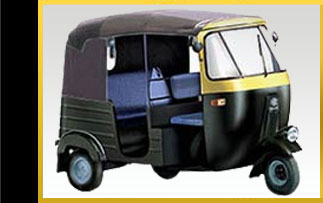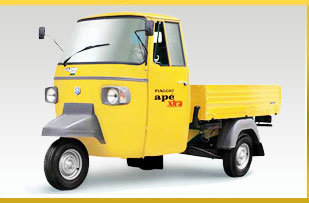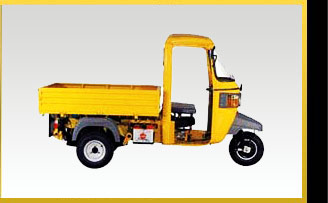 Three Wheelers
Three Wheelers are largely used as commercial vehicles, used to carry passengers and goods. They have bi-fuel engine, working either on CNG or LPG and petrol for limphome. They have TMC brake system and anti-dive front suspension. They are provided with remote location gas filling and oil pumps drive extracted from clutch shaft. It is safe on road and low on maintenance and highly economical. They are also cleaner for the environment and convenient. There is an efficient battery charging also provided along with safety measures in case of brake failure. They have got good after sales service. Because of the bifuel mode, one can run the vehicle in a number of ways, thereby making maintenance convenient. Bajaj three wheelers, Piaggio van are some of the brands who make vehicles in this category.


Bajaj Autorickshaw RE 2 Stroke
Features :
Antidive front suspension
TMC brake system
Stylish tell-tale indicators on the dash board
Powerful 100 watts magneto
Petrol mode also provided
Advantage :
Reduce the nose diving tendency during breaking and provides more driving comfort on rough roads
Provide safety incase of the brake failed
Easy indication of petrol/gas mode, high beam, neutral gear & battery charging.
Provides efficient battery charging
Limp home facility
Benefits :
Comfort
Safety for driving
Convenience
Low maintenance
Enables the vehicle to reach the gas filling pump in the event of vehicle running out of gas.
Rating :





Technical Specifications:
Engine
Type
Two stroke, forced air cooled, SI engine
Bore x stroke, mm
57 / 57
No. of cylinders
One
Displacement
145.45 cc
Bore X Stroke
62 mm X 66 mm
Compression ratio
10.0 ± 0.7 : 1
Max. Power, kW @ rpm
5.24 kW @ 5000 rpm
Max. Torque, Nm @ rpm
12.17 N.m a@ 3500
Air Cleaner Type
Oil Bath Type
Clutch Type
Wet multidisc type
Transmission
Transmission
4 Forward + 1 Reverse
Chassis
Type
Monocoque
Suspension
Type
Front – Swing arm with Antidive Link, Rear – Swing Arm
Spring
Front - Helical coil compression spring, Rear -Helical coil compression spring
Shock Absorbers
Front - Hydraulic, double acting, Rear – Hydraulic, double acting.
Brakes
Service Brake (Brief description)
Single control, right foot operated hydraulic brakes with TMC
Wheel Rim Size
Front- 3.00 x 8, Rear - 3.00 x 8
Tyre size Front & Rear
Front & Rear - 4.00-8, 4PR
Electrical
System Voltage
12V, DC
Battary Rating
12V, 32Ah
Fuel Tank
System Voltage, V
12 V, AC + DC
Battery rating, Ah
12 V, 9 A.h
Wiper Motor
Electrical
Wiping system (Brief description)
Single speed electrical wiper motor with wiper arm and blade
Fuel tank Capacity
Full – 8.0 ltrs, Reserve – 1.4 ltrs.
Dimensions
Wheel base, mm
2000
Overall width, mm
1300
Overall length, mm
2625
Overall height, mm
1710
Rear track, mm
1150
Min. ground clearance, mm
180
Weights
Maximum GVW, kg
610
Kerb Weight, kg
284
Gradeability
16 % (9.1°) max.
:: Yes! I am interested ::
For BS III, the displacement is 436cc and the maximum torque displayed is 18Nm at 2200 rpm and its compression ratio is 18:1. They are mostly used to carry goods. The maintenance is low cost and there are many service centres located through India.
User Review :
These are the latest vans from Piaggio. They are ideal for carrying medium weighted goods. The covered top keeps the goods protected from harsh weather.
Rating :





Technical Specifications:
Ape Xtra BSII Engine
Type
Single cylinder, Naturally Aspirated Air Cooled
No. of Cylinders
One
Displacement
395CC
Max Power, Kw rmp
7.38 bhp 600 Rpm +/- 50 rmp
Max Torque,Nm rmp
16.7NM 2500 rmp
Compression Ratio
18:1[+/- 0.5%]
Ape Xtra BSIII Engine
Type
Single cylinder, Naturally Aspirated Air Cooled
No. of Cylinders
One
Displacement
436CC
Max Power, Kw rmp
5.52KW 3600 Rpm +/- 50 rmp
Max Torque,Nm rmp
18NM 2400-2200 rmp
Compression Ratio
19:1[+/- 0.5%]
:: Yes! I am interested ::
Rating :





Technical Specifications:
Engine
Engine Type
Single Cylider, Naturally Aspirated Air Cooled
Engine Model
NA
Displacement
436.00 CC
Maximum Power
5.53 KW @ 3600 RPM
Maxiumum Torque
18 NM @ 2400 - 2200 RPM
MaxSpeed
NA
FuelTank
FuelTank Capacity
10.5 litre
Fuel Type
Diesel litre
Dimension
Height
1920 mm
Width
1495 mm
Length
2965 mm
Kerb Weight
0 kg
Wheelbase
1750 mm
Ground Clearence
NA
Turning Circle Radius
NA
Load Body Dimension
Loading Body Height
1065 mm
Loading Body Width
1400 mm
Loading Body Length
1480 mm
Load Max Hegiht
NA
Gross Vechicle Weight
Kg
Suspension
Suspension Front
Helical Spring With Hydraulic telescopic Shock Absorber
Suspension Rear
Rubber compression spring with hydraullic telescopic Shock Absorber
Tyres
Tyres
4.50 - 10 , 8PR
Brakes
Brakes Type
Drum Breaks Hydraulically actuated internal expanding shoe t
Brakes Front
Drum
Brakes Rear
Drum
Parking Brake
NA
Others
Transmission
4 forward, 1 reverse
Clutch
Multi Disc, Wet Type
GearBox
Constent Mesh GB
Steering Type
Handle Bar Type
MAX Gradeability
NA
MAX Restartability
NA
Seating Capacity
240
Colours
Brilliant Green, Charming Blue, Sahara Yellow, Golden Yellow, Western Red, Bianco White
Pay Load
NA
:: Yes! I am interested ::
Piaggio Ape City powered by the 4 stroke, naturally aspirated engine with 395cc engine displacement. It can makes 5.52 KW @ 3600 rpm power and 16.7nm @ 2400-2200rpm torque on ride. The engine features Wet multi disc type clutch. The quality vehicle have 20% Gradeability & 165mm clearance.
The engine mated with 4 speed manual gears transmission. The Piaggio Ape City have Driver +3 passengers seating capacity. For safety equipped with Hydraulic telescopic front suspension and Mechanical a" hand operated brakes. The vehicle uses Handle bar type steering also.
Piaggio Ape City Hot Features :


4 stroke, naturally aspirated engine
395cc engine displacement
5.52 KW @ 3600 rpm power
16.7nm @ 2400-2200rpm torque
Wet multi disc type clutch
20% Gradeability & 165mm clearance
4 speed manual gears transmission
Driver +3 passengers seating capacity
Hydraulic telescopic front suspension
Mechanical – hand operated brakes
Handle bar type steering
Engine Performance and Mileage
:: Yes! I am interested ::

© Bharat Traders (Exports). All Rights Reserved (Terms of Use)
Developed and Managed by IndiaMART InterMESH Limited